T Level Health Resources & Support
The healthcare industry is one of the fastest-growing industries in the world. With an aging population and advancements in medical technology, the demand for skilled healthcare professionals is only going to increase in the coming years. The T Level Health course in the UK is a two-year qualification aimed at students aged 16-19 who want to pursue a career in healthcare. The course covers a range of subjects and provides practical work experience, making it a valuable addition to the curriculum for colleges and course providers.
T levels are an alternative option to A levels, apprenticeships and any other courses available to people aged 16-19. One T Level is actually equivalent to three A levels, and can help students find their way into skilled employment, higher study and apprenticeships. There are a number of different T Level courses to choose from; 16 currently, with the aim of adding another 8 by 2024. You can read more about T Levels on the gov.uk website.
The T Level Health course is a two-year course that provides students with the skills and knowledge they need to pursue a career in healthcare. The course covers a range of subjects, including anatomy and physiology, medical terminology, and healthcare ethics. Students also have the opportunity to gain practical work experience through placements in healthcare settings.
The T Level Health course is important for several reasons. Firstly, it provides students with a clear pathway into the healthcare industry. By completing the course, students have a solid foundation of knowledge and skills that are highly valued by employers in the healthcare sector. Secondly, the course is designed to meet the needs of the healthcare industry, which is currently experiencing a skills shortage. By training students in the skills and knowledge needed for the healthcare industry, the T Level Health course is helping to address this shortage.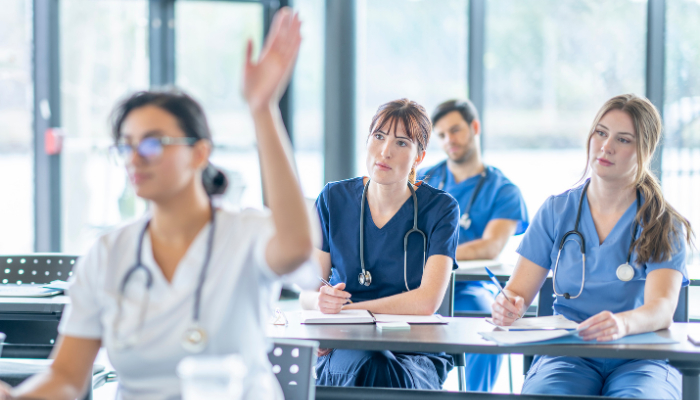 Benefits of Providing The T Level Health Course
Offering the T Level Health course can be a valuable addition to the curriculum for colleges and course providers. Firstly, it provides students with a clear pathway into the healthcare industry. By offering the course, colleges and course providers can attract students who are interested in pursuing a career in healthcare. Secondly, the course provides practical work experience, which is highly valued by employers in the healthcare sector. By offering practical work experience, colleges and course providers can help students to gain the skills and knowledge needed to succeed in the healthcare industry.
For colleges that offer T Level Health, there are certain products and devices that are essential to carrying out the course to its learners. There are a number of requirements and specifications that need to be met by providers to ensure that the course and its relevant assessments can be completed. It can be difficult to know exactly what equipment is needed for your college in order to carry out the course, which is why we've put together some of our products that will be suitable for it. You can view all of our T Level products here.
How We Can Help
Simulaids are a leading UK distributor for medical simulation devices, including the equipment you need to meet the T Level Health specification and deliver the course to your students. We have been supporting medical education professionals for over 20 years, as well as providing products that are great investments in terms of quality and value for money. Even better, we will price match any genuine quotes that you receive from elsewhere and include free shipping to mainland UK addresses.
Manikins For T Level Health
For T Level Health, we have three simulation manikins that are ideal for the delivery of this course, with each manikin having its own distinctive, innovative features. Responsive, simulation manikins are essential in order to deliver the T Level health course to your learners. Simulation manikins allow learners to put what they have learned into practice on a device that is as close to real-life as possible.
Simulaids® ALEX Patient Communication Simulator​
ALEX comes in three specifications, lite, plus and pro. Each spec has its own level of features and feedback options. With ALEX, you can build critical thinking, decision making and priority setting skills. ALEX can perform patient physical assessment and evaluate vitals and waveforms with a simulated patient monitor. View ALEX's full product sheet here.

ALEX is able to train medical students to build critical thinking and decision making, perform patient physical assessment, evaluate vitals and waveforms with simulated patient monitor, create automated performance assessment of learning objective, maintain treatment plan, practice procedures such as IV administration and catheterisation, assess advanced life support performance with CPR metrics and live stream/record patient perspective during simulated events.
DANi™ Teen & Young Adult Advanced Training Solution​
DANi evolved from the full body KERi manikin and is an advanced training solution for issues including drug abuse and sexual assault for younger people. DANi is ideally suited for a hands-on learning experience in a classroom setting, perfect for the T Level Health course. DANi has a range of realistic features that learners can practice on including pupils. airway, acne, smooth skin, tattoo sleeve, piercings, wigs and foot wounds. The weight is distributed to represent a real patient for lifting and carrying.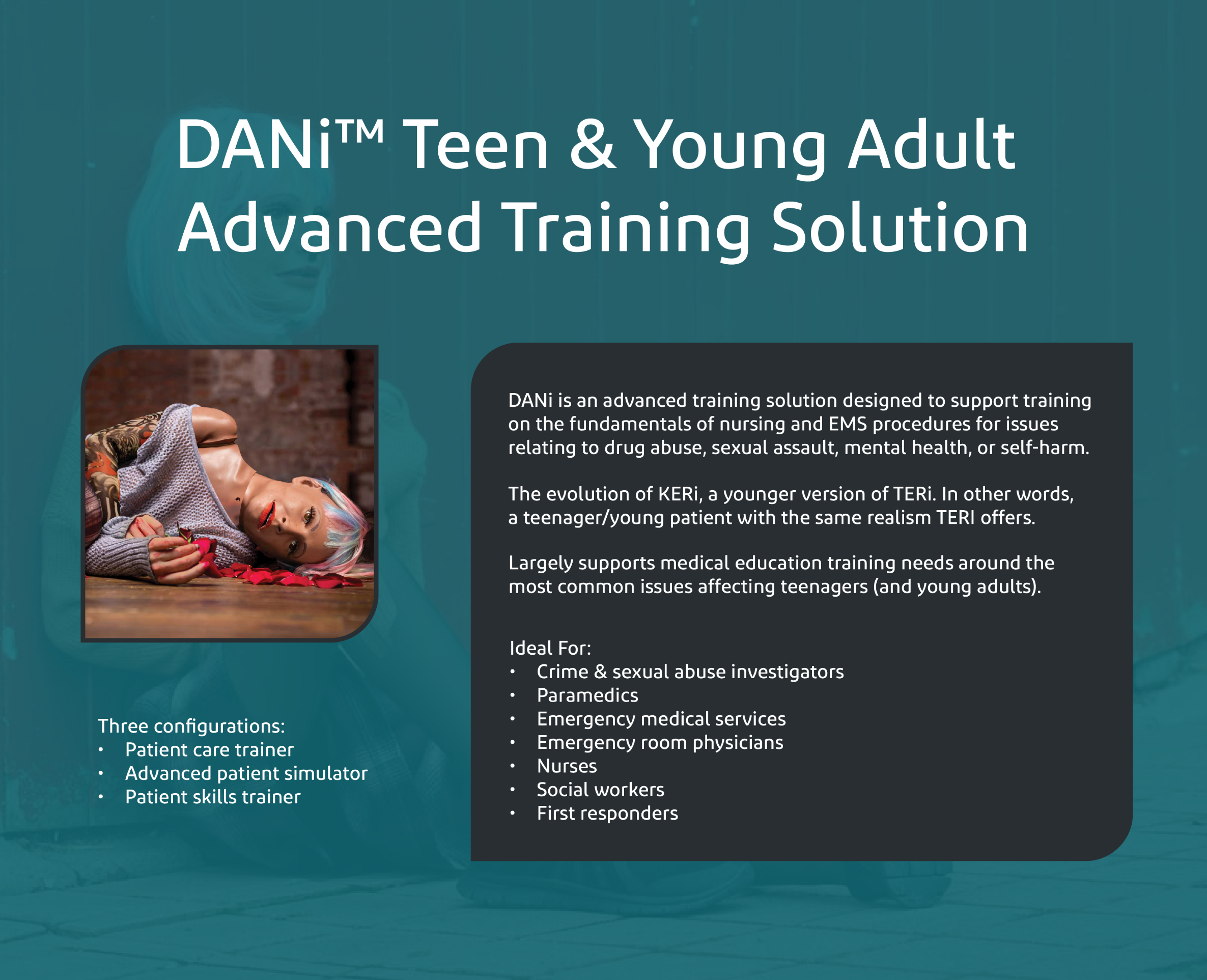 DANi is configurable to fit unique training requirements and budgets, available in three different configurations: Patient Care Trainer, Advanced Patient Simulator and Patient Skills Trainer.
DANi provides a realistic, hands-on learning experience ideally suited for classroom in-situ, or hospital instruction, and is targeted towards roles such as first responders, crime and sexual abuse investigators, nurses, social workers, emergency room physicians and more.

TERi™ Androgynous Geriatric Patient Trainer​
TERi is ideal for simulating a range of geriatric nursing tasks including anything from activities of daily living to acute medical emergencies in both a pre-hospital and hospital setting. The main features of TERi include a passive range of motion, enhanced aesthetics, activities of daily living, injections, cardiovascular support and more.
Want TERi to talk? Upgrade with PCS Plus – the wearable simulator that enables TERi to listen to your questions and respond using AI technology.
Wondering what the difference is between TERi's three configurations?
Patient Care Trainer – general patient care, daily living assistance simulation
Patient Skills Trainer – physical skills practice simulation with IV, catheterisation, cardiovascular and raspatory support
Patient Simulator – complete simulation platform including patient monitoring
We have a range of advanced simulation products in the form of training simulators that use the latest, best technology. Our patient monitoring simulators give learners the most realistic learning experience possible due to the technology used and the realism of each device.

Skillqube
We provide a wide range of Skillqube products available for patient monitoring training. Skillqube produces leading medical simulation systems for training purposes, and has played a key role in the development and rising use of simulated systems in medical education. For the T Level Health course, we recommend the Qube X, a simulated ECG monitor which simulates a real ECG monitor to give learners the best possible practice and preparation for real life scenarios in the future.
The qubeX is available in several configurations. You can choose whether to include an iPad with the product, which is the screen that will display the data. There are also size configurations for the hardware set, as they are available in medium and small for this particular Skillqube product.
What's included?
A qube adult cable set, qube pediatric cable set, stationary WLAN router, qubeZERO, qubeAED and two qubeCPR sensors. Check out the video below to see a brief overview of the qubeX and what it does.
Clinical skills is a staple of the T Level Health course. Clinical skills in healthcare is an everyday practice that needs to be mastered for students to pass their qualification and go on to use in an occupational setting. Clinical skills are used in all areas of healthcare, by nurses, surgeons, lab technicians and medical assistants in their day-to-day role. Clinical skills are developed in training and through a qualification such as the T Level Health course, but continue to be developed at all stages of a healthcare professional's career. Clinical skills are generally divided into two main categories: hard and soft skills. Soft skills are broader, less specific skills such as patient communication, whereas hard skills refer to technical skills that are specific to a role, such as administering medication to a patient.
Simulaids have a wide range of products that are designed to develop clinical skills in healthcare training and education, focusing on specific hard skills. You can view our full range of clinical skills products here, or take a look at our clinical skills products that we recommend for T Level Health below.
Whilst high-fidelity, responsive manikins such as those listed above are a must for T Level Health, basic resuscitation manikins and other devices are also needed to deliver the course. Whilst you are able to perform resuscitation on the higher-end simulation manikins, they have many advanced features which go further than basic resuscitation. If your college requires a basic, cheaper CPR/resuscitation device without the need for extra features, check out our products below.
The basic buddy manikins are a great affordable option for resuscitation without having to go all out for a responsive simulator manikin.
The CPR Cube Pro is also a great alternative to an expensive manikin, as it can connect to mobile devices and give feedback on chest compression to ensure that learners are compressing at the correct depth. It has two main sources of feedback, the first being a beeping sound that is activated at the correct compression depth as well as a metronome for a rhythm guide. The other feedback source is a LED light, which has different colours for depth, rate and recoil.
Get in Touch
Contact us today for any T Level Health related enquiries. We have been providing expert advice to healthcare professionals for over 20 years.